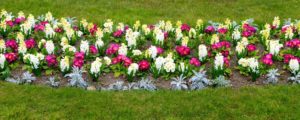 A plot of land full of beautiful blooming flowers is one of life's great pleasures. But there's more to it than just the look. To get the full flower experience, you need to capture that unique floral scent. But not all flowers have a strong scent, nor do they all release them at the same time. To have a freshly scented garden throughout the growing seasons, you'll need to plan ahead.
Fortunately, you have a lot of choices when it comes to picking out flowers to appeal to the nasally inclined. You could pick out a classic like Lily-of-the-Valley, a small plant that grows readily and spreads underground through rhizomes – giving it a serious toughness for those harsher climates. It holds its scent through most of the year.
For springtime sensations, Abelia shrubs deliver a beautifully strong fragrance from its tiny blossoms that last clear up until the end of summer. And as a perennial, you don't need to worry about replanting every year.
As you move on to summer, the Harlequin Glory Bower provides a jasmine-like scent that can be detected for quite some distance. As an added bonus, the small flowers will each play host to vivid blueberries that birds will love to eat.
Finally, as fall eases its cooler temperatures into your plans, the so-called "Chaste Tree" blooms with a subtle hint of sage. The bushes look very similar to lilac and can be arranged similarly for visual orientations, but be aware that bare branches can persist until well into summer.
Caring for your lawn and garden can be satisfying and a beautiful landscape is the best way to show off your hard work! If you need a hand to redesign or improve your landscape and garden, you can reach your Toronto landscaping professionals by giving us a call at 416-438-9824 or requesting a quote right here.