Toronto Pool Deck Construction Services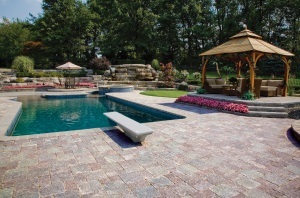 When Summertime finally peaks its head out and clears away Old Man Winter, nothing beats a day by the pool. If you want to keep the pool in your Toronto home looking and functioning its best, call the area's experienced landscape contractor, Hofstetter Landscaping, for our unbeatable pool deck construction service.
With our high-quality, name-brand materials and our experienced staff, we'll promise to provide the best pool deck construction work for your Toronto home. Thanks to these guarantees, your home can enjoy some great benefits:
A beautiful pool deck
Increased property value
A safe pool area
Customization for your home
If you want to enjoy all of these great benefits that a pool deck can provide, then you need to call the Toronto hardscaping contractors at Hofstetter Landscaping for our quality pool deck construction service. We'll work hard to provide the best results, guaranteed.