Retaining Walls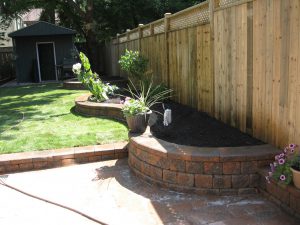 If you do a fair amount of gardening in your Toronto home, you'll find a retaining wall to be one of the most important installations you could have. If you're in the market to have a new retaining wall installed in your garden or to have your old retaining wall repaired or replaced, you need to call the Toronto landscaping contractors at Hofstetter Landscaping today.
We have the experience, the resources, and the quality guarantee (with up to five years' warranty on all our work) to promise the best retaining wall installation and work in Toronto. Thanks to our quality retaining walls, your home and garden can enjoy some great benefits:
Protection from soil erosion
Ability to build up garden laterally
Freedom to plant a greater variety of plants
More beautiful garden and home
If you want to enjoy all of those great benefits and more, call the Toronto hardscaping contractor at Hofstetter Landscaping today. We'll work fast, hard, and right to provide the best retaining wall for your Toronto home, guaranteed.