About Hofstetter Landscaping: Your Toronto Landscaping Company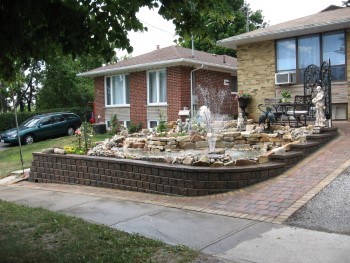 It takes a dedicated and experienced team to make a business work, and here at Hofstetter Landscaping, we have one of the most dedicated and experienced teams. So, with us, you can count on receiving nothing but the best landscaping work for your Toronto home.
Rick Hofstetter
Rick Hofstetter left a lucrative career in the Gas industry to join his brother in the family business in 1986. Most of his training was acquired on-the-job and by extensive coursework through the paving stone manufacturers. Rick continues to upgrade his skills every year with the latest innovations from Unilock and Permacon. His success has been based on his honesty and commitment to excellence.
Rick is also a Unilock Authorized Contractor. This means that Unilock has reviewed projects that Hofstetter Landscaping have completed and their workmanship exceeds Unilock's high standards. Through this program, Hofstetter Landscaping agrees to abide by an uncompromising Code of Ethics in all their business dealings.
Ashleigh MacDonald (Hofstetter)
Ashleigh MacDonald (Hofstetter) is one of the driving forces behind the Hofstetter Team! She has a background in sales, marketing, and administration. Her expertise is customer relations – once you've talked to her on the phone or met her at a sales call you will find her enthusiasm contagious! She works alongside Rick to ensure the day-to-day operations of the business are running smoothly and according to plan. Her interest in softscape landscaping, plants, flowers, and shrubs has enabled her to assist in the design of some of our landscaping projects.
Ashleigh is hard working and very dedicated. We are pleased she is part of the Hofstetter family!
Quality Work from An Experienced Team
If you're in the market for some of the best landscaping and hardscaping services around, you need to call the Toronto landscaping company Hofstetter Landscaping today. We have the experience and the dedication to quality to promote excellent work that will last for years!