Outdoor Kitchen Design & Construction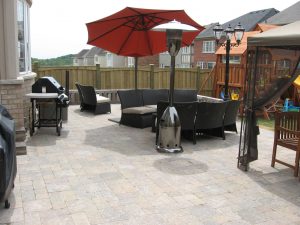 Cooking is a necessary and — for many — very fun and rewarding job that must be done almost every day. And to enjoy this job to the fullest without leaving odors and heat in your Toronto home, call the area's landscaping contractors at Hofstetter Landscaping for a quality, custom-built outdoor kitchen.
From sinks to grills to coverings, we offer it all to provide the most useful outdoor kitchen for your Toronto home. And thanks to our promise to use only name-brand products and top-quality craftsmanship, we also promise to provide a beautiful and durable outdoor kitchen that will provide a wealth of great benefits:
Keep odors out of your home
Lower your cooling bills by removing excessive heat from your home
Increase your property values
Bolster your curb appeal
If you're in the market for a beautiful custom-made outdoor kitchen for your Toronto home, don't hesitate to call the area's experienced hardscaping contractors at Hofstetter Landscaping today. We work quickly yet thoroughly to provide an excellent outdoor kitchen in no time at all!